DIY vs. Professional After-Party Cleanup: Pros and Cons in Newport Beach
admin
After throwing a memorable party in Newport Beach, the last thing you want to deal with is the cleanup. It's a time-consuming and often exhausting task that can take away from the enjoyment of hosting an event. When it comes to after-party cleanup, you have two options: doing it yourself (DIY) or hiring professional cleaners. In this article, we'll explore the pros and cons of both approaches. From cost considerations to convenience and quality of results, we'll help you make an informed decision about the best after-party cleanup option for your Newport Beach gathering.
Explore the pros and cons of DIY vs. professional after-party cleanup in Newport Beach. For expert cleaning, choose You've Got It Maid.
Difference Between DIY vs. Professional After-Party Cleanup
After a lively party, the cleanup process can be daunting. But should you tackle it yourself or hire professionals? Let's explore the key differences between DIY and professional after-party cleanup to help you make an informed decision.
Cost Comparison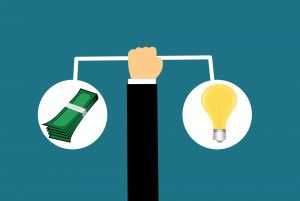 One of the primary considerations when choosing between DIY and professional after-party cleanup is the cost. DIY cleanup typically involves purchasing cleaning supplies and dedicating your own time and effort to the task. While this may seem cost-effective initially, it's essential to factor in the value of your time and the potential need to purchase specialized cleaning equipment. On the other hand, hiring professional cleaners in Newport Beach comes with a price tag, but it provides convenience and saves you time and energy.
Time and Effort
Parties are already a demanding task, and adding post-party cleanup to your to-do list can be overwhelming. DIY cleanup requires significant time and effort on your part. You'll need to organize and clean every area, from tidying up decorations to scrubbing floors and surfaces. Depending on the size of the party and the mess left behind, this process can take several hours or even days. Hiring professionals, however, allows you to focus on other tasks or simply relax and enjoy your time, knowing that the cleanup is being handled efficiently.
Expertise and Quality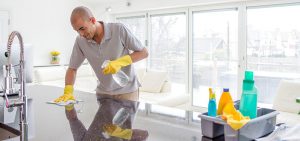 When it comes to thorough cleaning, professional cleaners in Newport Beach have the expertise and experience to deliver high-quality results. They are trained in efficient cleaning techniques and have access to commercial-grade cleaning supplies and equipment. This means that they can tackle even the toughest stains and dirt, leaving your space spotless and fresh. DIY cleanup, while it may be satisfactory for regular maintenance, might not achieve the same level of cleanliness and attention to detail as professionals can provide.
Convenience and Stress Relief
Hosting a party is often stressful, and adding the burden of cleanup can take a toll on your overall enjoyment. Hiring professionals for after-party cleanup offers convenience and stress relief. They handle all aspects of the cleanup process, from organizing and decluttering to deep cleaning and sanitizing. You can simply relax and let the experts take care of everything. This allows you to fully enjoy the aftermath of your party without the added stress of tackling the cleaning tasks on your own.
Liability and Damage
A party comes with the risk of accidental damage to your property. When opting for DIY cleanup, you assume full responsibility for any damage that occurs during the cleaning process. On the other hand, professional cleaners in Newport Beach are typically insured, which means that they are liable for any damages caused by their cleaning activities. Hiring professionals provides peace of mind, knowing that if any accidents or mishaps occur, they will be covered by their insurance.
Customization and Flexibility
DIY cleanup allows you to customize the cleaning process according to your preferences and priorities. You can decide which areas to prioritize, the cleaning methods to use, and the products you prefer. This level of control may be important to some individuals who have specific preferences or requirements. Conversely, professional cleaners follow a set protocol and may not cater to individual preferences. However, most professional cleaning companies are flexible and can accommodate specific requests or address particular concerns if communicated in advance.
Environmental Considerations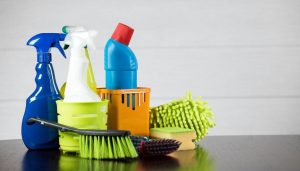 If environmental sustainability is a priority for you, DIY cleanup allows you to choose eco-friendly cleaning products and practices that align with your values. You have the freedom to select natural, non-toxic cleaning solutions and reduce the environmental impact of the cleanup process. While some professional cleaners in Newport Beach offer eco-friendly options, not all may prioritize sustainability. If this is a crucial factor for you, ensure you communicate your preferences when hiring professionals.
Reputation and Trustworthiness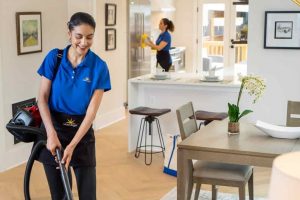 When hiring professional cleaners for after-party cleanup in Newport Beach, it's important to consider their reputation and trustworthiness. Look for reputable cleaning companies with positive reviews and a track record of reliable service. Professional cleaners will enter your home or event space, so it's crucial to hire trustworthy individuals who will respect your property and privacy. On the other hand, with DIY cleanup, you have full control over who accesses your space, which may provide a sense of security for some individuals who prefer to handle the cleanup themselves.
Post-Party Maintenance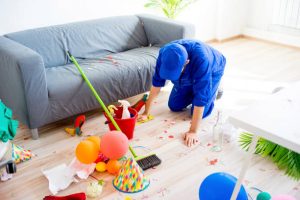 After-party cleanup extends beyond just tidying up the immediate mess. It may involve additional maintenance tasks such as carpet cleaning, upholstery cleaning, or window washing. Professional cleaners often offer these services as part of their package, allowing for a comprehensive post-party cleanup. DIY cleanup may require additional effort and expenses to tackle these maintenance tasks, especially if specialized equipment or products are needed. Consider the level of maintenance required after your party and assess whether professional cleaners can provide a more thorough and efficient solution.
Conclusion
Deciding between DIY and professional after-party cleanup in Newport Beach depends on various factors, including cost, time, expertise, convenience, liability, customization, and environmental considerations. While DIY cleanup may initially seem cost-effective, it requires significant time and effort. Hiring professionals offers convenience, expertise, and high-quality results, freeing you from the burden of cleaning and allowing you to enjoy the aftermath of your party. Consider your priorities, budget, and preferences when making the decision. Ultimately, both options have their merits, and it's important to choose the one that aligns with your needs and ensures a stress-free and successful post-party cleanup experience.